Saws, Sanding & Cutting
Equipment & Prices
Enquire
Here at TBS Hire we have a wide range of cutting tools from  450mm petrol floor saws to 300mm portable disc cutters or even the Arbortech Allsaw which can remove individual bricks, as well as wall chasers, table saws, tile cutters jig saws, ripsnorter saws and block cutters.
We also have various sanders including floor sanders, sanding edgers and orbital and belt sanders.
In our shop, we also stock consumables to go with the hire.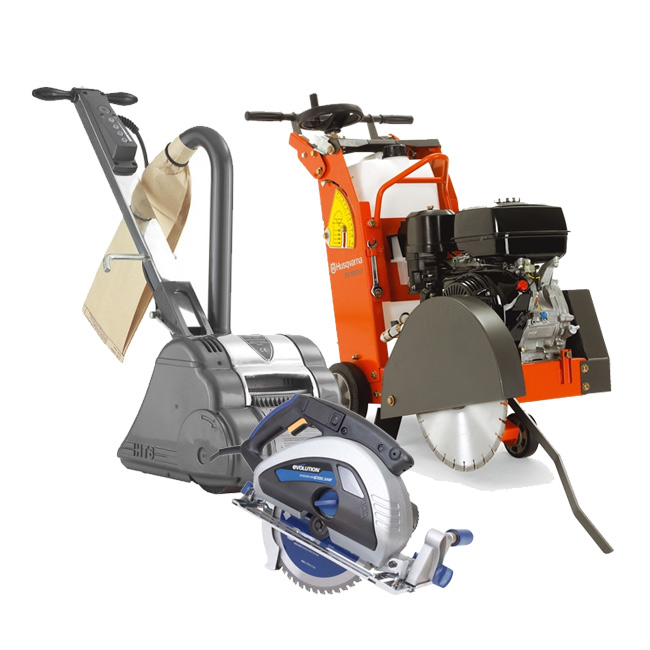 Cutters
| | £/Day (excl VAT) | £/Week (excl VAT) |
| --- | --- | --- |
| Block Cutter 350mm | £15.00 | £30.00 |
Floor Saws (Petrol)
| | | £/Day (excl VAT) | £/Week (excl VAT) |
| --- | --- | --- | --- |
| 450mm Dia (18") | Max depth of cut 165mm | £50.00 | £100.00 |
Masonry Saw Benches
| | | £/Day (excl VAT) | £/Week (excl VAT) |
| --- | --- | --- | --- |
| 300mm (12") | 110v | £30.00 | £60.00 |
| Table Saw | Belle BC350 110v | £45.00 | £90.00 |
| Table Saw (Large Slabs) | Rubi DX350 | £80.00 | £160.00 |
Sanders
| | | £/Day (excl VAT) | £/Week (excl VAT) |
| --- | --- | --- | --- |
| Orbital Sander | 500w, 110v | £10.00 | £20.00 |
| Belt Sanders | 100mm, 200w, 110v | £20.00 | £40.00 |
| Floor Sanders | 200mm, 110v | £30.00 | £60.00 |
| Floor Sanding Edgers | 178mm, 110v | £20.00 | £40.00 |
Saws
| | | £/Day (excl VAT) | £/Week (excl VAT) |
| --- | --- | --- | --- |
| 300mm Disc Cutter | Petrol TS410 | £17.50 | £35.00 |
| 300mm Disc Cutter | Electric | £25.00 | £50.00 |
| Jig Saws | 650w, 110v | £15.00 | £30.00 |
| Ripsnorter Saws | 230mm Electric, 110v | £20.00 | £40.00 |
Surface Preparation
| | £/Day (excl VAT) | £/Week (excl VAT) |
| --- | --- | --- |
| Floor Planer 200mm, 110v | £50.00 | £100.00 |
| Floor Grinder (STR 701) | £50.00 | £100.00 |
| Tile Stripper 230mm, 110v | £50.00 | £100.00 |
Flail, Disc and Blade Wear Charged Extra
Tile Cutting Saws
| | | £/Day (excl VAT) | £/Week (excl VAT) |
| --- | --- | --- | --- |
| 200mm, Electric | 110v | £23.00 | £46.00 |