Lifting
Equipment & Prices
Enquire
From plaster board lifts to genie material lifts we have the tool to make a 3 man job a 2 man job!  Our plaster board lifts come in either 3.5m or 4.5m high making it suitable for galleried ceilings and our material lifts go from 3.5m to 7.9m high.
We also have kerb lifters and vacuum slab lifters to help with the heavier lifting and manual pallet trucks to move packs easily around site.
For holding beams and supporting walls in place our steel acrow props come in various sizes.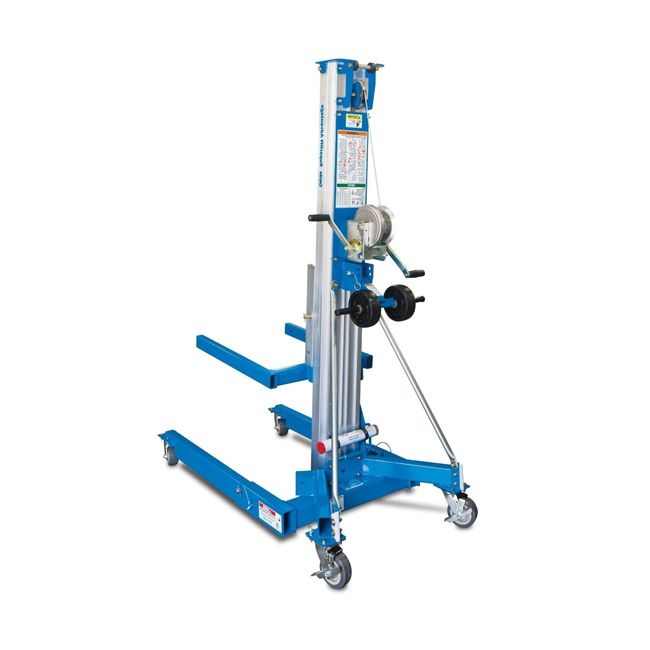 Lifts
| | | £/Day (excl VAT) | £/Week (excl VAT) |
| --- | --- | --- | --- |
| Rough Terrain Pallet Truck | | £45.00 | £90.00 |
| Manual Fork Lift Truck | | £45.00 | £90.00 |
| Material Lift (SLA10) | 454kg, 3.5m | £40.00 | £80.00 |
| Material Lift (SLA15) | 363kg, 4.98m | £45.00 | £90.00 |
| Material Lift (SLA25) | 295kg, 7.9m | £50.00 | £100.00 |
| Plasterboard Lift | 70kg, 3.5m or 4.5m | £25.00 | £50.00 |
| Pipe Bogey Trolley | | £20.00 | £40.00 |
| 4 Wheeled Turntable Trolley | | £20.00 | £40.00 |
| Manual Pallet Truck | | £15.00 | £30.00 |
| Kerb Lifter | | £10.00 | £20.00 |
| Vaccum Slab Lifter | | £25.00 | £50.00 |
| Sack Barrow | | £10.00 | £100.00 |
Add Ons
Pipe Cradle
Jib Attachment
Fork Extensions
Steel Props
| | | £/Week (excl VAT) |
| --- | --- | --- |
| No.0 1.05m – 1.80m | 3'6" – 6'0" | £4.00 |
| No.1 1.725m – 3.075m | 5'9" – 10'3" | £4.00 |
| No.2 1.95m – 3.30m | 6'6" – 11'0" | £4.00 |
| No.3 2.55m – 3.90m | 8'6" – 13'0" | £4.00 |
| No.4 3.15m – 4.80m | 10'6" – 16'0" | £4.00 |
| Support Attachment (Strong Boy) | | £7.50 |