Drills, Breakers & Nail-Guns
Equipment & Prices
Enquire
Whether you are looking for the right tool for your DIY project or on site demands we can supply!  Stocking a wide range of Hilti masonry drills, nail guns and various hand tools, cordless options are also available.
Our breakers vary from the smaller hand held TE500 or kango to the larger TE3000 heavy breaker or petrol power packs.
We also supply consumables for the DX460 nail gun and core drills and bits.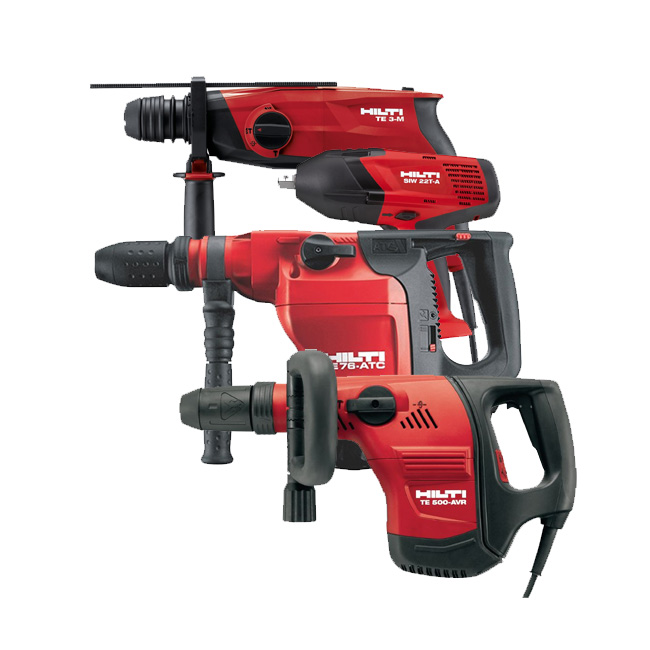 Breaker Power Packs
| | £/Day (excl VAT) | £/Week (excl VAT) |
| --- | --- | --- |
| Hydraulic, Petrol | £40.00 | £80.00 |
Fuel and Resharpening is Charged Extra
Combi Hammer/Drill
| | | £/Day (excl VAT) | £/Week (excl VAT) |
| --- | --- | --- | --- |
| Hilti TE3 TE7 TE30 | 110v | £20.00 | £40.00 |
| Hilti TE76, TE60 | 110v | £20.00 | £40.00 |
| Hilti TE60 Cordless | | £20.00 | £40.00 |
| Hilti DD10 Core Drill | 110v (core bits available) | £20.00 | £40.00 |
| Magnetic Drill | Max 30mm, 110v (Cutters Extra) | £40.00 | £80.00 |
Cordless
| | | £/Day (excl VAT) | £/Week (excl VAT) |
| --- | --- | --- | --- |
| Hilti Impact Drill | 22v, 13mm (0.5") keyless chuck | £20.00 | £40.00 |
| Hilti Impact Driver | 22v | £20.00 | £40.00 |
| Hilti Impact Wrench | 22v, 13mm (0.5") | £20.00 | £40.00 |
| Plasterboard Screw Driver | 41mm Auto Feed 14.4v | £20.00 | £40.00 |
Masonry Drills
| | | £/Day (excl VAT) | £/Week (excl VAT) |
| --- | --- | --- | --- |
| Hilti TE30 | 110v | £20.00 | £40.00 |
| Hilti TE76, TE60 | 110v | £20.00 | £40.00 |
| Hilti TE60 | Cordless | £20.00 | £40.00 |
| 620W SDS+ | Hammer, Vari Speed, Reversing | £13.00 | £26.00 |
| 22v Cordless SDS | Variable Speed, Reversing | £15.00 | £30.00 |
| Magnetic | Max 30mm 110v (Cutters Extra) | £40.00 | £80.00 |
Nail Guns
| | | £/Day (excl VAT) | £/Week (excl VAT) |
| --- | --- | --- | --- |
| Floorboard Nailer | 50mm | £15.00 | £30.00 |
| Floorboard Clamp | | £10.00 | £10.00 |
| Nail Gun (first fix) | 51 – 90mm | £20.00 | £40.00 |
| Hilti Cartridge Gun | DX460 | £15.00 | £30.00 |
Rotary Hammers & Breakers
| | | £/Day (excl VAT) | £/Week (excl VAT) |
| --- | --- | --- | --- |
| Hilti TE500 | 5.7kg | £20.00 | £40.00 |
| Kango | 110v 11.4kg | £20.00 | £40.00 |
| Hilti TE2000 Breaker | 110v (T handle) | £40.00 | £80.00 |
| Hilti TE3000 Heavy Breaker | 110v (T handle) | £40.00 | £80.00 |
Screw Drivers
| | | £/Day (excl VAT) | £/Week (excl VAT) |
| --- | --- | --- | --- |
| Plasterboard Screw Driver | 41mm Auto Feed 14.4v | £20.00 | £40.00 |
Wall Chasers
| | | £/Day (excl VAT) | £/Week (excl VAT) |
| --- | --- | --- | --- |
| Twin Diamond Disc | 110v | £30.00 | £60.00 |
| Dust Extractor | | £30.00 | £60.00 |